The Hidden Gem Of The Jungfrau Region – "Royal Walk". It is an extraordinary walking path on the top of Männlichen. After only 30 min of easy hiking you'll be rewarded with a grand sight of the UNESCO World Heritage Jungfrau-Aletsch – the largest glaciated region in Eurasia.
Travelling to this extraordinary place for a couple of hours through Switzerland's most spectacular alpine roads and valleys is an adventure on its own. Once on top of Männlichen, the trail – "Royal Walk" – leads up to a big "crown". The crown, actually, is a panoramic platform that since 2015 has been offering breathtaking views over the Alps. And the easy, relaxing walk up to the peak is like a cherry on top.
There are seven information points on the way up – The King's Gate, The Legacy, The Treasury, Royal Ties, The Court Painter, The Secret Sovereign, The Royal Court. And each of them tells interesting facts about the Alps in the Jungfrau Region, Glaciers and the knots used in Alpine climbing.
Surprisingly, this gorgeous path had very few people. In fact, it was almost empty. So I think it is still a hidden gem in the heart of the Swiss Alps for many people.
And what a view was waiting for us at the crown – majestic 360◦ panoramas and spectacular scenery of over 20 mountains, including famous Eiger, Mönch and Jungfrau. Indeed, I needed a moment to breathe and take it all in.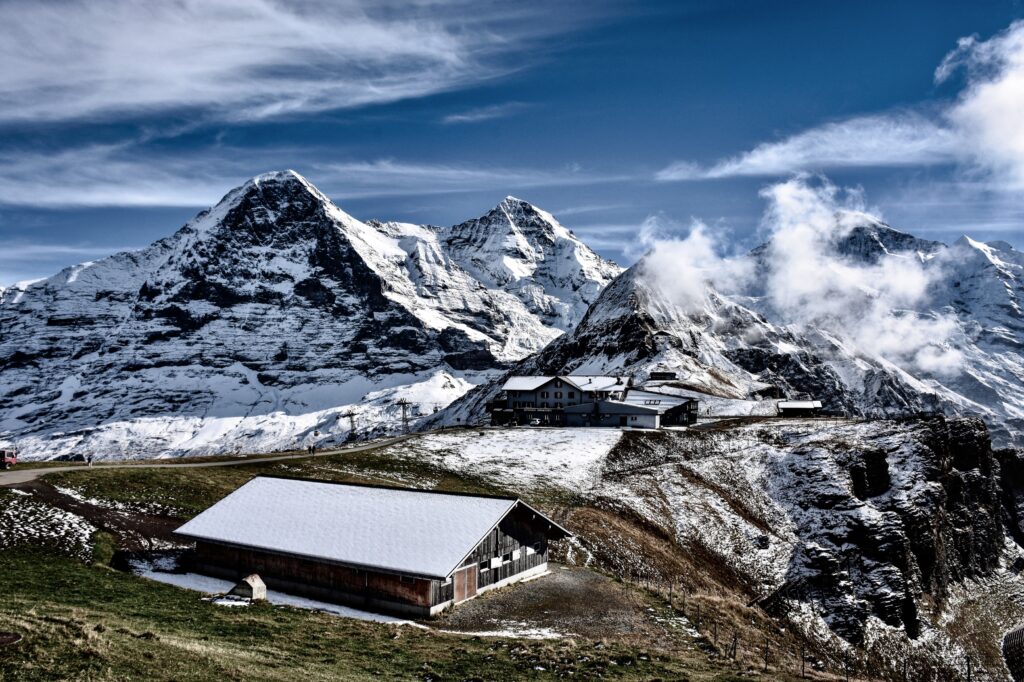 Good to know:
Location: The "Royal Walk" and the Royal View Crown are located on the top of Männlichen.
How to reach: Männlichen can be reached by aerial cableway via Lauterbrunnen/Wengen or aerial gondola from the Grindelwald side.
We went up from Wengen, so our road was: Zurich – Bern – Interlaken Ost – Lauterbrunnen – Wengen by trains; then the aerial cableway Wengen – Männlichen.
The travel time from Zurich to Männlichen by public transportation would take approximately 3 hours.
Traveling by car would take around 2h30min. You can check the google map below.
Prices: without GA or 1/2-Fare Card traveling could be costly. For example, the road described above without discounts would cost around 200 CHF. Therefore, I recommend to check the special offers and day passes on SBB and Männlichen websites.
The tickets, timetables, prices and special offers you can find on SBB.ch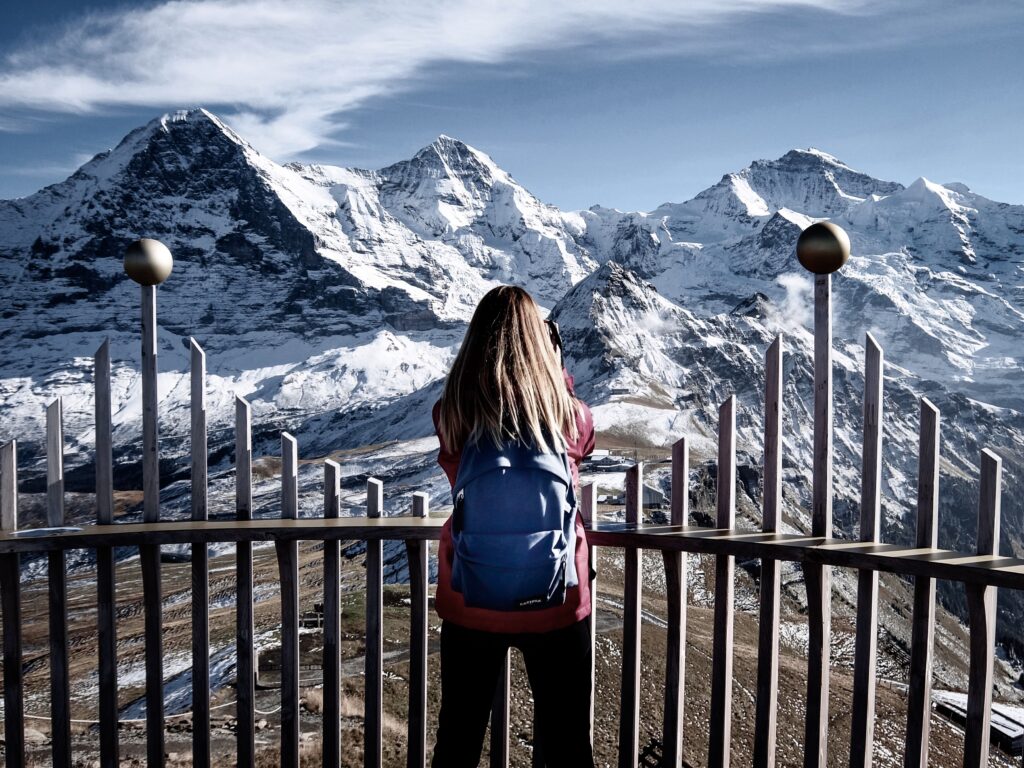 Summer Timetable for Wengen – Männlichen Aerial Cableway 2021:
Ascent Wengen–Männlichen 8:30–16:50, every 20 minutes.
Descent Männlichen–Wengen 8:30–17:10, every 20 minutes.
Prices for Wengen–Männlichen Aerial Cableway:
Round trip Wengen-Männlichen – 48 CHF;
50% discount for 1/2-Fare Card, GA Travel Card, children (age 6 to 15).
More info about prices for the cableway -> Tariffs for Wengen–Männlichen Aerial Cableway
Check the weather condition. The best views would be when the skies are clear, however, a little bit of high clouds are also not too bad.
Avalanche defences at Männlichen.
Unfortunately, nature is not always so peaceful and beautiful. Where mountains are, there are avalanches. Avalanches are the major natural hazards in that region, and they are very dangerous by threatening to destroy roads, houses and people. Since 1970, the authorities of Wengen have been implementing the projects of avalanche barriers.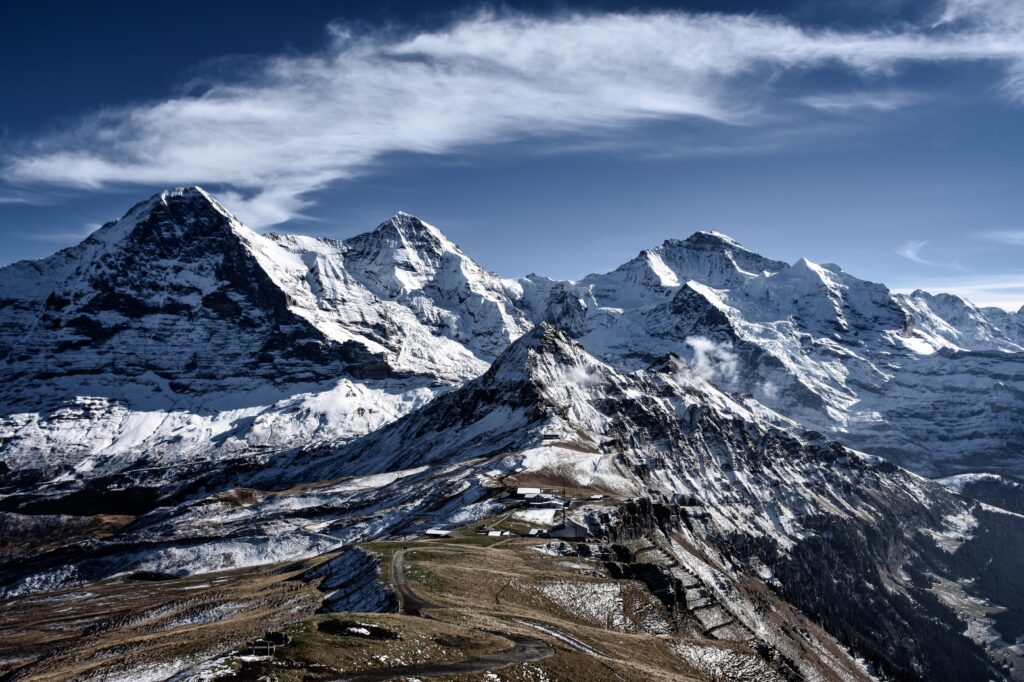 The Avalanches defences include three main structures:
Snow bridges and snow nets – prevent avalanches from forming by securing the release zone.
Tree-leg mountings – increase ground roughness and protect against snow glide in avalanche release zones.
Avalanche protection forest – form a natural barrier against avalanches.

Amazing, isn't it? :)
It was a fantastic trip and a remarkable discovery in the Jungfrau region, which in general, has so much to offer. The activities, the views, the energy are incredible. It is an excellent destination for a weekend getaway or a vacation.
Finally, If you have any questions, don't hesitate to contact us. GET IN TOUCH
BE HEALTHY AND WEALTHY! :)