White Turf is one of the most thrilling horse racing competitions, that has been taking place on the frozen lake of St. Moritz since 1907.
This horse racing is taking place in the glorious ski resort of St. Moritz, located in the Swiss canton Graubunden in the Engadine valley at around 1,800 meters above the sea level. It's a charming town with plenty of sunny days, a beautiful lake and surrounded by magnificent Swiss Alps.
Is St. Moritz on your bucket list? If so, you might also find interesting our article 5 REASONS TO VISIT ST.MORITZ THIS WINTER.
White Turf summits together the best horses and jockeys from all over the world for the prestigious races and exciting experience. It's also an important platform for communication between trainers, horse-owners and horserace enthusiasts. Finally, the event attracts a lot of tourists and plays an important role in the life of the local people.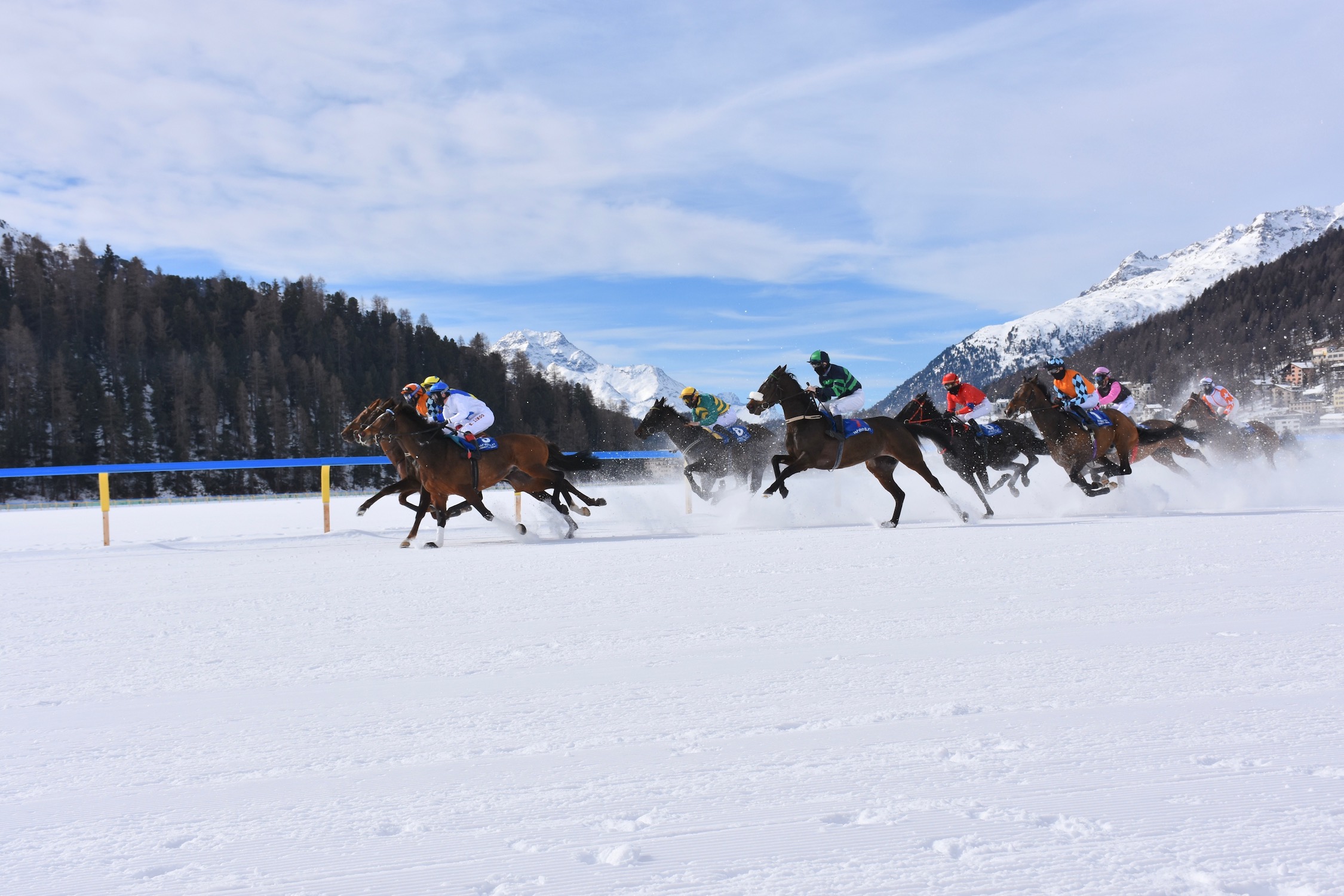 GOOD TO KNOW:
Dates of White Turf 2018: 4th, 11th, 18th of February 2018.
Location: the frozen lake of St. Moritz.
Tickets prices:
Standing space CHF 20.–
Grandstand:
Category A (numbered seats): CHF 80.–
Category B (free seats): CHF 40.-
Getting there, from Zurich, by train: Zurich – Landquart – St. Moritz (around 3 hours) or Zurich – Chur – St. Moritz (around 3,5 hours).
Travel time Zurich – St. Moritz by train or car is approximately 3 – 3,5 hours.
Each time, I'm fascinated by HORSES, the superstars and heroes OF THE TOURNAMENT. THEY ARE SO elegant AND strong, FULL OF strength AND inner force.
However, We should not forget that the horse racing is a dangerous sport, especially in such an unusual environment. Last year, the White Turf was overshadowed by a tragic accident during the last day of the tournament.
This year, some serious safety measures were employed, thus the races were thrilling and sometimes even turbulent, but without any serious accidents. So spectators could enjoy breathtaking horse races.
Results:
LONGINES 79th Grand Prix of St. Moritz (Flat race, 2'000 m) won five-year old Nimrod with his jockey Maxim Pecheur from the stable of Miroslav Weiss, taking the price of 111,111 Swiss francs.
Grand Prix BMW (Trotting race, 1'700 m), won twelve-year old Spike with the jockey Fanny Homberger, taking the price of 25,000 Swiss francs.
Grand Prix CREDIT SUISSE (Skikjöring race 2'700 m) won Seven-year old Pinot with the driver Alfredo Lupo Wolf, the price was 15, 000 Swiss francs.
Queen of the Engadine – Valeria Holinger.
H.H. Sheikha Fatima Bint Mubarak Ladies World Championship (IFAHR), flat race 1'600 m, won Dynamites with the jockey Rebecca Danz, taking the price of 38,500 Swiss francs.
The results from all the days and races you may also find on the White Turf official website.
EVERY YEAR FOR MORE THEN A CENTURY, THE FROZEN LAKE of st. Moritz HAS BEEN TRANSFORMED INTO THE SPORT VILLAGE WITH VARIOUS SPORT COMPETITIONS ON IT.
Besides the White Turf, during the winter time the city is also famous for the Ice Cricket and the Snow Polo on the frozen lake. You may learn more about it in the following articles -> SNOW POLO WORLD CUP ST.MORITZ 2017; SNOW POLO WORLD CUP ST. MORITZ 2018.
If you have any questions, don't hesitate to contact me -> GET IN TOUCH.
BE HEALTHY AND WEALTHY! :)