5 reasons to visit St. Moritz this winter: sunny snowy weather, amazing slops among gorgeous Swiss Alps, Olympic heritage, iconic winter events on the frozen lake and unique luxurious atmosphere. Check our good to knows and travel tips for St. Moritz.
1. THE RESORT HAS APPROXIMATELY 320 SUNNY DAYS PER YEAR
Thanks to its location among the Alps in the Engadine valley at around 1,800 meters above the sea level, St. Moritz has a unique combination of sunny snowy winters and fresh vivid summers. No wonder, that this luxurious retreat is so popular among rich and famous, as well as sport enthusiasts and alpine tourists, who also take pleasure in spending a few days here.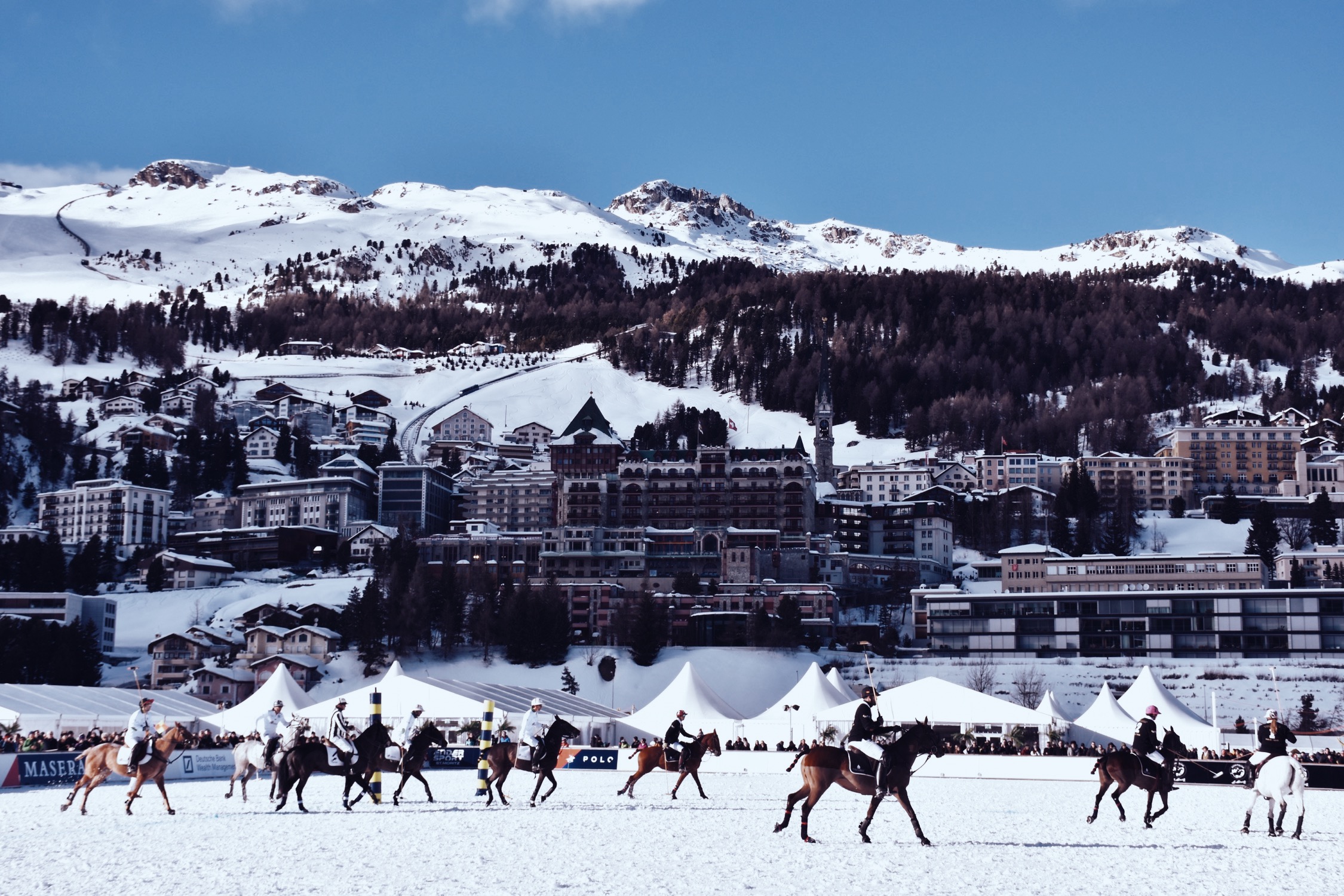 Good to know:
St. Moritz is located in the Swiss canton Graubunden, in the Engadine valley, at around 1,800 meters above the sea level.
Traveling to St. Moritz by train is a very special experience, even though the road from Zurich takes around 3 hours. I think, the most spectacular way is through Chur because the train from Chur to St. Moritz lies on the famous Albula Line. Which, together with the Bernina Line, forms the Bernina Express Route – the World Heritage Site. The train goes through many viaducts and tunnels. The views are breathtaking!
Photo Tips for the train travel Chur – St. Moritz: if you want to see and/or take pictures of the Alps, tunnels and world-famous Landwasser Viaduct, choose a panoramic wagon, which is usually the last one, and sit on the right side of the train in the direction of travel.
Alternatively, it's possible to reach St. Moritz using the connection through Landquart. That road is 20 minutes faster.
2. Skiing, snowboarding and sledging on amazing slopes, among gorgeous Swiss Alps
Are you skiing or snowboarding? I most of the time prefer sledging :) And the resort offers great winter activities and amazing slopes, as that the city hosted the Winter Olympic Games twice, as well numerous FIS Alpine World Ski Championships.
Furthermore, for inspiring walks, there is a beautiful walking path with spectacular view over the valley and the Alps. It lies from the Signal cable car towards the mountain club El Paradiso. The walk takes approximately 20 minutes and it is absolutely magical. By the way, El Paradiso has a great restaurant with delicious food, dazzling views and glamorous parties. If you've already been there, share with us your experience in the comments below.
3. LONG HISTORY OF WINTER SPORT IN ST. MORITZ
Nowadays, St. Moritz is also world-famous because its glamorous winter sports on the frozen lake, like Snow Polo World Cup and horse racing (White Turf). However, the city has experience and history of organising the most spectacular winter sport events for over 150 years.
Good to know:
The city hosted the Winter Olympic Games twice: in 1928 and in 1948. In January 2020, St. Moritz is welcoming athletes and guests of the Youth Olympic Games as the second Olympic village after the main venue in Lausanne.
The resort has the oldest bobsleigh track and only remaining natural ice track in the world. It was built in 1904 and is still used for competitions.
FIS Alpine World Ski Championships have already been taken place 5 times: in 1934, 1948, 1974, 2003 and 2017.
Ice skating is possible almost all year-long there. At Eisarena Ludains in St. Moritz Bad visitors can ice skate outdoors from mid-July until mid-April.
St. Moritz is a curling pioneer. The city hosted the first curling tournament on mainland Europe.
Cresta Run (also know as skeleton) in St. Moritz has been carried out on an ice track between St. Moritz and Celerina since 1884.
The cross-country skiing around St. Moritz covers over 220 kilometres. It includes Switzerland's most famous trail: the Engadin Skimarathon route from Maloja to S-chanf.
4. iconic winter events on the frozen lake
The Lake St. Moritz is famous with the Snow Polo World Cup, the White Turf Horse Races and the Cricket on Ice. Every year, the frozen lake is transformed into an elegant sport village with the various sports on it throughout the winter. These stunning events attract thousands of visitors from all over the world. And we regularly cover the White Turf and the Snow Polo World Cup. Stay tuned for all the details about upcoming events.
5. ST. MORITZ IS A BIRTH PLACE OF ALPINE WINTER TOURISM
155 years ago, Johannes Badrutt (famous hotelier in St. Moritz) made a bet with his English guests. He said, the winter months are much sunnier and more pleasant in the Alps, than in England. He invited them to stay in his hotel during winter, so they could feel it for themselves. If they wouldn't like it, he promised to cover all their travel expenses. English tourists weren't convinced, but came over during the Christmas the same year. And what a surprise awaited for them, sunny snowy weather and frosty air. Those were first Alpine winter tourists! :)
Since then, this secluded Alpine retreat has become a synonym of prestigious luxurious exclusive lifestyle.
Have you ever been in St. Moritz? What was your experience and favourite discovery there? Which topic are you interested to know more about? Share with us in the comments below.
If you have any questions, don't hesitate to contact us -> GET IN TOUCH.
Be healthy and wealthy! :)