Summer Skin Essentials INCLUDE THE most IMPORTANT CARE PRODUCTS THAT WILL PROTECT YOUR SKIN FROM HARMFUL SUN EXPOSURE AND KEEP it HEALTHY AND GLORIOUS.
Physically and emotionally we always feel good when the weather is sunny. Certainly, sun is vital for us as it stimulates the production of vitamin D and important hormones in our body. However, besides all the good effects, sun could also be dangerous and aggressive.
GOOD TO KNOW ABOUT SUN RAYS:
There are three ultraviolet rays: UVA, UVB, UVC.
UVC rays are the short spectrum rays, which normally don't reach the surface. Though, the problem of the climate change and increased amount of ozone holes in the atmosphere might lead to the point that UVC will be a big problem in the near future.
UVB is a very intensive solar radiation, which reaches the outer layer of skin (epidermis). UVB rays are responsible for skin tanning, sunburns and increasing risk of skin cancer.
UVA are intensive, harmful and dangerous rays. They easily reach us, penetrate through skin all the way to the deep inner layers of dermis and cumulate permanently. UVA rays very easy infiltrate through clouds, fog and glass. The effects of these sun rays are not visible right the way, but appears later as photoageing (premature ageing), different skin diseases (dermatitis) and increasing risk of skin cancer.
SPF (SUN PROTECTION FACTOR) THEORETICALLY MEASURES THE SUNSCREEN ABILITY TO PROTECT YOUR SKIN FROM BURNING.
GOOD TO KNOW ABOUT SUNSCREENS:
Sunscreen should be applied 30 min before going under the sun.
Most of the sunscreens must be reapplied every 2 hours.
There is no sunscreen which keeps out 100% of ultraviolet radiation. SPF15 blocks out approximately 93% of all incoming UVB rays. SPF30 filters out around 97% of all UVB. SPF50+ blocks out 98% of all UVB.
Sunscreens with higher SPF do not last or remain longer than sunscreens with lower SPF.
Double dosage or thicker layer of a sunscreen do not give stronger protection.
Always use the sunscreen which protects against both UVB & UVA rays.
Skin SUN PROTECTION FROM A-Derma AND LIERAC
One of my favourite brands for sun protection is A-Derma. It's well-known for its great products for the sensitive, atopic and fragile skin. For this summer, A-Derma has presented the PROTECT line, a sunscreen that specifically addresses the needs of fragile skin. The sun protection products provide skin with a 3-fold effect: they protect against sunburn with a patented filter system, strengthen the skin barrier (Barriestolide®) and support cell defence (RHEALBA® seed oil).
PROTECT Creme SPF 50+. The nourishing PROTECT cream is perfect for normal and dry fragile skin. It protects skin with a proven filter system consisting 4 filters against UVB and UVA rays. The creamy texture is light and comfortable without any whitening effect. It is also waterproof.
PROTECT AC Mattifying Fluid SPF 50+ The PROTECT AC mattifying fluid has been specially developed for skin prone to impurities. This special sunscreen protects the face against the damaging effects of UV rays (UVA / UVB), strengthens the skin barrier and supports cell defence against UVA with a non-greasy texture.
PROTECT AD Cream SPF 50+. This cream is the first sunscreen product specifically designed to meet the needs of very dry, prone to itching skin while providing a pleasant texture. Applying the EXOMEGA cream from A-Derma beforehand is the perfect foundation for this type of skin. Free from perfume.
PROTECT Spray Kids SPF 50+. Special sun protection for fragile facial and body skin of children. The pleasant texture is easy to spray on and is waterproof. Free from perfume.
NEW PROTECTIVE BB FLUID GLOBAL ANTI-AGING SPF 50+ FROM LIERAC LABORATORIES
Last but not least, new product for this summer from Lierac. This light fluid protects skin from UV rays and free radicals, and at the same time revitalises and provides active anti-age care. Its softly melting texture is very pleasant on the skin and it is neither greasy nor sticky. After application, leaves a healthy glow. Recommended for all skin types.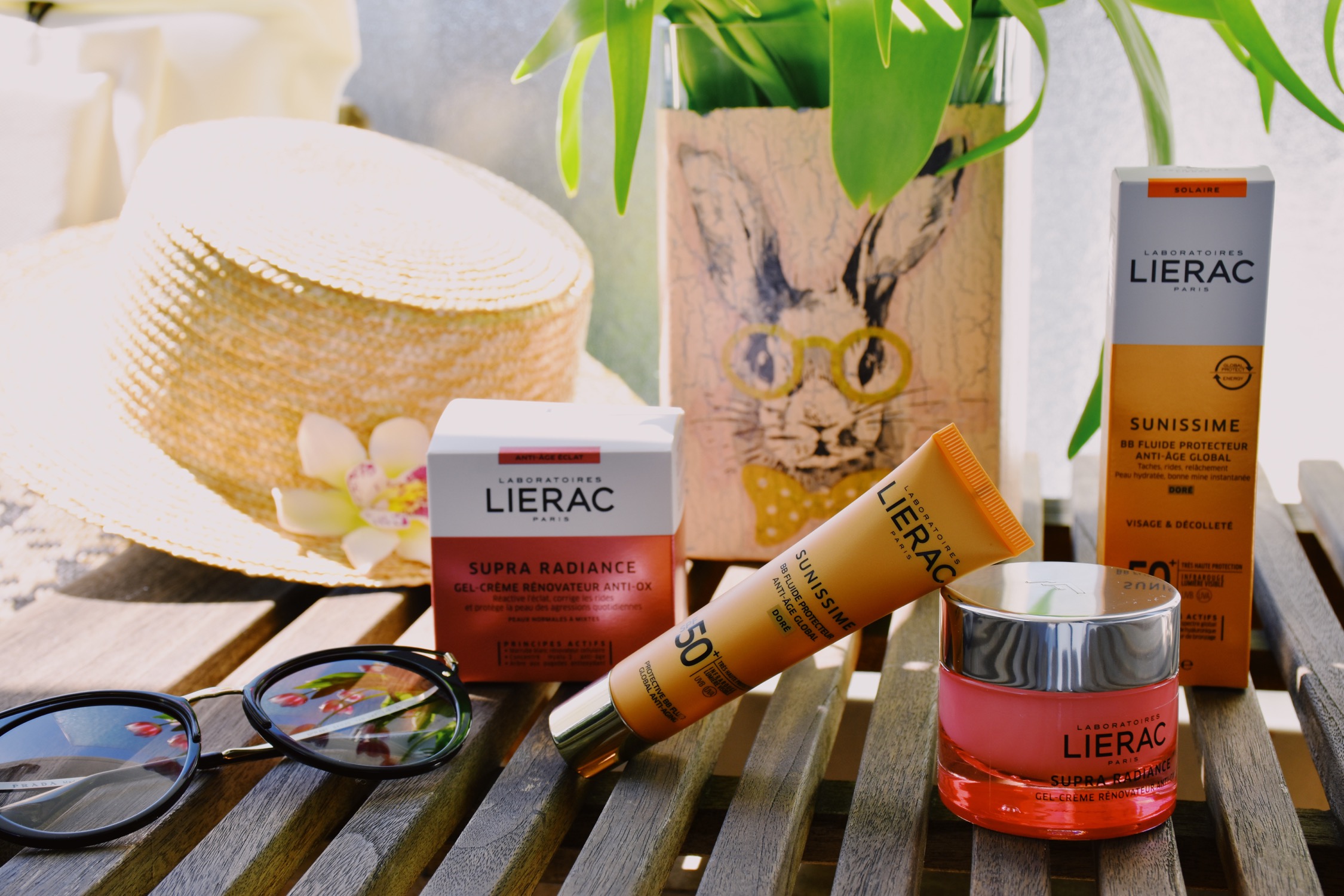 Sunscreen is only the first level of defence. Also, Don't forget to wear sunglasses, a hat and clothes from natural fabrics for better protection as well as drinking enough water for hydration.
Stay tuned for more summer beauty products for hair and body.
If you have any questions, don't hesitate to contact me -> GET IN TOUCH.
BE HEALTHY AND WEALTHY! :)