Experience the Festive Wonder of Zurich's Christmas Markets – A 2023 Journey
Welcome to our all-encompassing guide to the Zurich Christmas Markets for 2023. As the city lights up with festive cheer, we invite you to explore the best holiday markets in Zurich, each offering a unique blend of traditional Swiss charm, delightful crafts, and seasonal treats.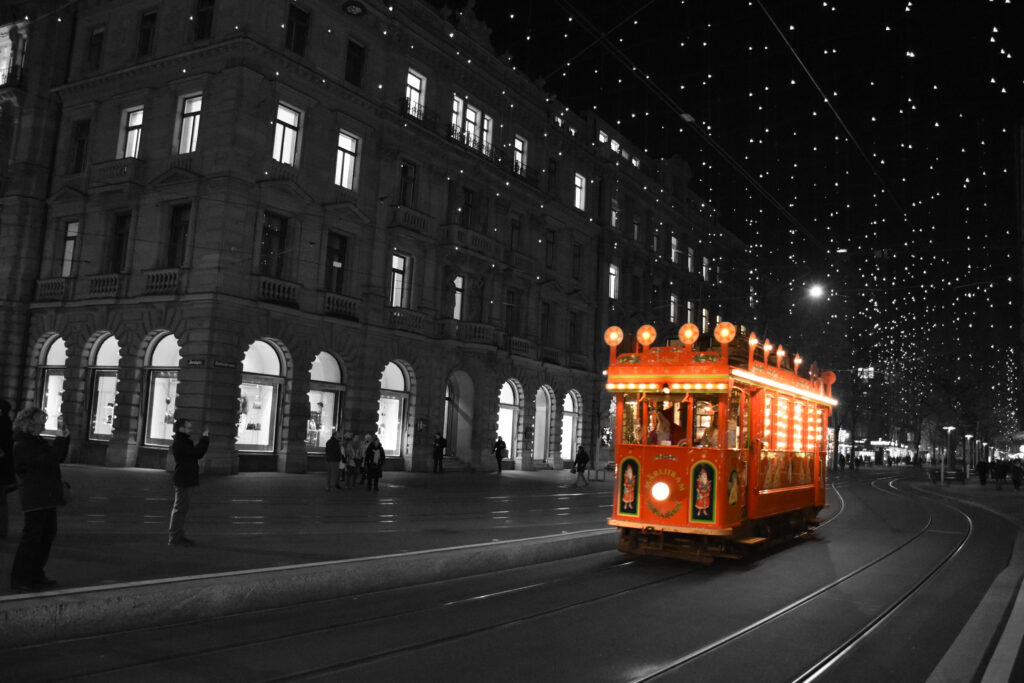 Illuminarium – The Light Festival at the National Museum – Landesmuseum Zürich
Step into a fairy-tale at the Illuminarium in Zurich's National Museum. This light festival transforms the courtyard into a mesmerizing world of illuminations and mythical creatures. Enjoy a glass of Glühwein with friends or a magical show with kids. Don't miss the cozy dinner opportunities at the fondue chalet.
Good to know:
Dates: 9 November – 30 December 2023.
Contactless payments.
Location: The inner courtyard Landesmuseum Zürich, Museumstrasse 2, 8001 Zürich, Switzerland.
Working hours: Outdoor bars are open from 17:00 to 23:00 daily. Indoor Club and Restaurant are open until midnight.
Shows: Yuki Show: 17:00 – 20:00; Digital Art Show: 20:00 – 22:00. Tickets for the shows are available on the official website.
Getting there: The museum is located just across from the central train station. By train to the Zurich main train station (Zürich Hauptbahnhof). Tram 4, 11, 13, 14, 17 or bus 46 to the "Zurich, Bahnhofquai / HB".
The Illuminarium is not suitable for people with photophobia.
Zurich Christkindlimarkt at the Zurich Main Train Station
One of Europe's largest indoor Christmas markets awaits you at the Zurich Main Train Station. The highlight is a 15-meter-high Christmas Tree, adorned with thousands of crystals. Around 140 huts offer everything from handcrafted toys to delicious mulled wine, creating a perfect festive atmosphere. As soon as you arrive at the Train Station, you will feel the irresistible aroma of gingerbread and Glühwein. :)
Good To Know:
Dates: Daily, 23 November – 24 December, 2023.
Contactless payments.
Opening Hours: Sunday to Wednesday – 11:00 – 21:00. Thursday to Saturday until 22:00. Until 16:00 on December 24th.
The best view of the tree and the market is from the two viewing platforms that could also be reserved for a special festive aperitif with colleagues, friends and family.
Location: On the ground floor of Zürich Hauptbahnhof (Zurich Main Train Station).
Zurich Christkindlimarkt official website.
The Christmas Village at Sechseläutenplatz – Zürcher Wienachtsdorf
Step into a whimsical winter wonderland and brace yourself for a dose of holiday magic at the Christmas Village extravaganza! Prepare to be enchanted as you frolic through the scene of more than 100 adorable huts, each packed to the brim with dazzling decorations, cute-as-a-button toys, and tasty culinary delights that will make your taste buds dance a joyful jig. Remember to swing by the Fondue-Chalet for a melty, cheesy adventure. Get ready to create memories that will make Santa himself jealous at this seriously awesome Christmas market! Your inner child will thank you. Let the festive fun begin!
Good To Know:
Dates: 23 November – 23 Desember, 2023.
Contactless payments.
Location: Sechseläutenplatz, in front of the Zurich Opera House.
Working hours:
The Christmas market: Mon-Sat 11:00 – 22:00; Sun 11:00 – 20:00.
The Chalet: Sun-Wed 11:00 – 23:00; Thur-Sat until 00:00.
Zürcher Wienachtsdorf official website.
Christmas in Zurich Old Town
Prepare to be whisked away to a winter wonderland like no other! Picture this: Zurich's oldest Christmas market, nestled in the fairytale-like Old Town. As you stroll through the enchanting cobblestone streets between Central and Bellevue, you'll feel like you've stepped into a festive movie set. The air is filled with the delightful aromas of gingerbread, roasted chestnuts, and laughter. Everywhere you turn, you'll find quirky and whimsical stalls offering everything from handmade treasures to outlandish trinkets. It's like stepping into Santa's workshop but with a dash of Swiss charm and a sprinkle of holiday magic. So, wear your comfiest boots and prepare for a merry adventure in this charming Christmas Town!
Good To Know:
Dates: 23 November – 23 December, 2023.
Location: Zurich Old Town, Niederdorfstrasse and surrounding areas, between Central and Bellevue – Grossmünster, Hirschenplatz, Mühlegasse, Rosenhof, Niederdorfstrasse, Zwingliplatz
Contactless payments.
Working hours: Mon-Thus 11:00 – 21:00. Fr-Sat 11:00 – 22:00. Sun 11:00 – 20:00.
More details are available on the official website.
The Christmas Singing Tree
Get ready to jingle all the way to the incredible Werdmühleplatz! Why settle for a regular Christmas market when you can have choirs belting out tunes from a singing tree? It's like a musical version of a holiday spectacle! Take a break from the bustling Bahnhofstrasse and immerse yourself in this quirky, festive wonderland. Don't miss out on this hidden gem because, seriously, where else can you witness a tree that can carry a tune? Let the magical melodies fill your heart with joy!
Münsterhof Christmas Market
Focused on local brands and high-quality products, the Münsterhof Christmas Market, curated by the Fraumünster church, offers a blend of traditional and modern goods. And hey, if you're feeling adventurous, why not hop on a guided tour around Münsterhof? Trust us, it'll be ho-ho-ho-rribly awesome!
Good To Know:
Dates: 23 November – 23 December, 2023.
Location: Münsterhof.
Opening Hours: Mon-Sat 11 – 21:30; Sun 11 – 19:30.
Contactless payments.
Münsterhof Christmas Market official website.
Zurich during the festive season is truly magical, and it's a time filled with hope, joy, and the belief that the best is yet to come. Our guide is here to help you plan safe and enjoyable activities with your loved ones during this beautiful time of the year.
Feel free to comment below and share this guide with your friends and family to help them discover the magic of Zurich's Christmas Markets. Finally, if you have any questions, don't hesitate to contact -> GET IN TOUCH
BE HEALTHY AND WEALTHY! :)